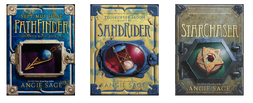 The
TodHunter Moon Trilogy
is a new arc of the
Septimus Heap series
, telling thestory of
Alice "TodHunter" Moon
, a young
PathFinder
who comes to
the Castle
with a
Magyk
all her own
Plot
The trilogy begins seven years after the events of the original Septimus Heap series, Alice TodHunter Moon—who insists on being called Tod—has grown up a PathFinder, one of an ancient seafaring tribe. Her mother, who died when Tod was young, had a very different history. She was from a mysterious magykal desert-dwelling family. Tod must choose which of her pasts will help her to survive: PathFinder or Magician. Magyk will allow her to fight like with like, but her PathFinder heritage gives Tod something special - the edge.
Books
PathFinder
Main article: PathFinder (book)
SandRider
Main article: SandRider
StarChaser
Main article: StarChaser
Ad blocker interference detected!
Wikia is a free-to-use site that makes money from advertising. We have a modified experience for viewers using ad blockers

Wikia is not accessible if you've made further modifications. Remove the custom ad blocker rule(s) and the page will load as expected.