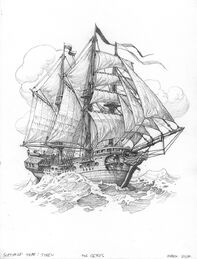 The Cerys:
The Cerys is a ship owned by Milo Banda, named after his wife, Cerys.[1]
Description:
"But by the time they had arrived at Milo's ship, the Cerys, Jenna is less confused - the Cerys is the most wonderful ship she has ever seen, and even Nicko has to admit it's better than a stinky net loft." - Syren
References: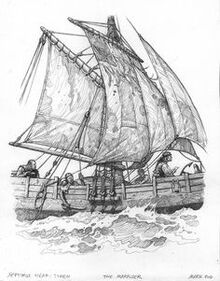 Appearances:
On The Cerys, Milo Banda shows Jenna a big trunk which is full of tiny lead tubes which he declares is for Jenna's safety. However, Jenna leaves as she gets tired of Milo's hospitality.
Nicko steers The Cerys towards The Castle. However, he accidentally sails the ship onto the rocks upon hearing the Syren's song.
A Pirate Crew ambush the passengers and open the trunk releasing the warrior jinnee who then wreck havoc.