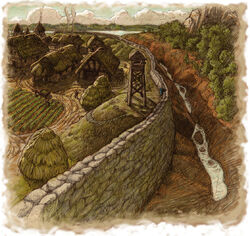 The Castle is a self sustaining community that The Queen rules over. Every winter, before the Big Freeze, Northern Traders come to the castle to trade.
History
The Castle began as a small village where its inhabitants built a wall and a ditch around it to keep out wolverines, witches and warlocks. As time went on, the walls were expanded, and more houses were built. Later, when a baby was stolen by the Darke Forest Creatures, they worked on the wall they have now and they dug the ditch deeper. On MidSummer Day, they breached the banks between the ditch and the Moat was built.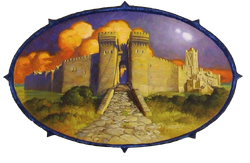 The summer before the Moat was built, a pretty barge arrived with a young woman and three daughters. They had dark hair, violet eyes and spoke a different language. The woman was given the best house and was made Queen. Her house later becameThe Palace. She never explained where she came from or why she left.
Many years later, when one of the queens descendants was Queen, Hotep-Ra arrived and healed the Queen's daughter, who was ill. For this, he was made the first ExtraOrdinary Wizard and built the Wizard Tower.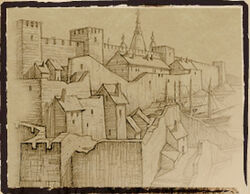 Notable locations