PathFinder (book)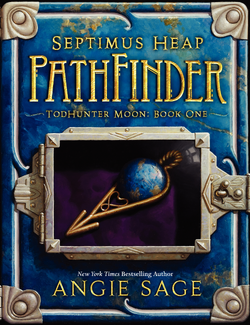 ---
---
---
---
---
Release Date
October 14, 2014
---
---
---
---
PathFinder is the first book in the TodHunter Moon series, a series set seven years after the Septimus Heap series. It follows Alice "TodHunter" Moon, and her friends Ferdie and Oskar Sarn, as well as the characters we've grown to known and love from the original trilogy! It was released on October 14th, 2014.
Blurb
The first book in a new arc of the Septimus Heap series, telling the story of Alice TodHunter Moon, a young PathFinder who comes to the Castle with a Magyk all her own!
Seven years after the events of the original Septimus Heap series, a young PathFinder named Alice TodHunter Moon—who insists on being called Tod—sets out from her seaside village to rescue her friend Ferdie from the malevolent Lady.
She receives help from ExtraOrdinary Wizard Septimus Heap and Ex–ExtraOrdinary Wizard Marcia Overstrand, but the Lady's brother, the Darke Sorcerer Oraton-Marr, has a plan that will put everyone Tod holds dear in danger. To save her people, Tod must embrace her identity as a PathFinder and navigate the often dangerous Ancient Ways.
Full of Angie Sage's characteristic humor and heart, PathFinder celebrates the joy of discovering one's own personal Magyk, and of choosing the path that lets that Magyk flourish and grow.
Perfect for anyone who can't get enough of the world of Septimus Heap![1]
Plot
PART I
On the Beach
The Dragon Boat
Discovered
PART II
The House of Foryx
Doppelgänger
Going Out
Taxi
Waiting
PART III
A Storm Brewing
In the Dunes
The Race
Garmin
Gone
Light of Day
Out of the Box
Plans
Memories
PART IV
Skimmer
The Lemonade Stall
The Monkey
The Prisoner
The Chain Locker
A Starr
The Chase
PART V
The Adventurer
Goat Rock
Letters
Good-Bye
PART VI
To the Castle
The Palace
The Wizard Tower
Awake
Dandra Draa
Marcia Overstrand
The Top of the Tower
Tower Tour
Password
PART VII
An Incursion of Ill Intent
Cocoon
Grula-Grula
Snow Globe
Snow Princess Driffa, the Most High and Bountiful
Nona
PART VIII
Oskar and Ferdie
Thieves in the Night
The Far
The Far Fortress
My Lady's Chamber
Madam
Orders
PART IX
The Outside Path
William
Sleepless
The Rat Office
Message Received
Morris
Florence
PART X
Together Again
Queen's Council
Ullr
Break Away
PART XI
PathFinding
The Heart of the Ways
Ermintrude
Caged
Ice and Rubble
Torr
Lucy
The Melt
The Dive
Gills
PART XII
Lapis Lazuli
The Orm Tube
ExtraOrdinaries
A Darke Dart
The Snow Palace
Five Magyk
Home
References
Ad blocker interference detected!
Wikia is a free-to-use site that makes money from advertising. We have a modified experience for viewers using ad blockers

Wikia is not accessible if you've made further modifications. Remove the custom ad blocker rule(s) and the page will load as expected.