Marcellus Pye
---
Occupation
Alchemist, Physician
---
Title(s)
The Last Alchemist (formerly)
---
---
---
Residence
Snake Slipway Alchemie Way (formerly)
---
---
---
---
Marcellus Pye was the last Alchemist and a renowned Physician who lived in the castle five hundred years in the past. He had discovered a Tincture that grants eternal life but not eternal youth, causing him still be alive while decaying and being horribly sick in Septimus Heap's time.
Biography
Septimus Heap traveled back in time through a glass made by Marcellus and became the Alchemist's apprentice. Once Septimus went back to his own Time, he made a new Tincture for the 500 years old Marcellus so he can be young in Septimus's time, too.[1] When Septimus had returned to his time, he made a new Tincture for Marcellus, which reverted him to the age of 30. Marcellus then started living in Snake Slipway.[citation needed]
His name was accidently spelled "Pie" by
Terry Tarsal
, who made shoes for him.
[citation needed]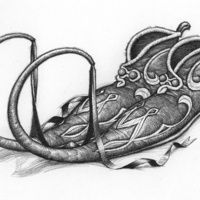 Septimus badgered him for many months for Marcellus to remember what he had told Nicko Heap and Snorri Snorrelssen in his own time. Being 500 years ago, he had a hard time remembering.[2]
Septimus was Marcellus apprentice for one month.[3] Simon Heap became his apprentice.[4]
References
Cite error: <ref> tags exist, but no <references/> tag was found