Jannit Maarten is the boatbuilder of the Castle and an extremely hard-working and self-sufficient woman.
Biography
Early life
Jannit didn't think of herself much as a girl.[citation needed] When she was fourteen, she dressed herself as a boy and ran off to sea.[citation needed] She lived on a farm when she was younger, and she "hated cows, loathed pigs, and disliked chickens."[citation needed]
Taking on apprentices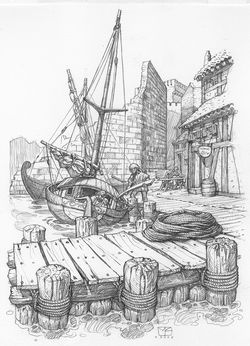 Nicko Heap and Rupert Gringe are apprenticed to her.[citation needed] After Nicko gets trapped back in time, she has to release his Apprenticeship and goes to Sarah Heap to get the Release signed.[citation needed] She was sad about the Release, and Rupert realized that Nicko helped out a lot around the Boatyard. He, too, missed Nicko very much, and wished he would return.[citation needed]
References