Darke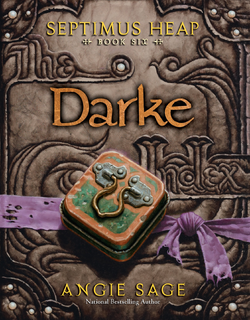 ---
---
---
---
---
---
---
---
---
Darke is the sixth book in the Septimus Heap series. The cover of the book modelled after the The Darke Index with the Darke Disguise lying on top, and the Two-Faced Ring on the back. It was released in June 2011 in the USA and released in October in the U.K.
Plot
Characters
Septimus Heap
Nickolas "Nicko" Heap
Jenna Heap
Simon Heap
Silas Heap
Sarah Heap
Zelda heap
Jo-Jo heap
Sam Heap
Erik Heap
Edd heap
Other Characters
O. Beetle Beetle
Merrin Meredith
Lots of Things
Marcia Overstrand
Alther Mella
Marcellus Pye
Bill 'Foxy' Fox
Linda
Maureen
Agnes Meredith (Nursie)
The Port Witch Mother
Marcus Marwick
Matthew Marwick
Mandy Marwick (Wolf Boy)
Tertius Fume
The Girl with the brass ring
Jillie Djinn
Romily Badger
Ephaniah Grebe
Hildegarde Pigeon
Thunder
Ethel
Maxie the old wolfhound
Syrah Syara
Terius Fume
DomDaniel (Mentioned, not present)
Milo Banda
Alice Nettles (Iona Pot)
Larry
Bertie Bott
Rose
Lucy Gringe
Jannit Maartin
Alfrún Snorrelson
Snorri Snorrelson
Igor of Gothyk Grotto
Sophie Barley
Spit Fyre
Melissa
Two lovebirds (tracked Jenna)
Trivia
The cover of the book represents "The Darke Index", which was introduced earlier in the series, and hence the title of the book (look on the top of the page for details.)
Ad blocker interference detected!
Wikia is a free-to-use site that makes money from advertising. We have a modified experience for viewers using ad blockers

Wikia is not accessible if you've made further modifications. Remove the custom ad blocker rule(s) and the page will load as expected.