Alther Mella
Talk

0
225pages on
this wiki
Alther Mella

First Appearance

Nickname(s)

None

Alias(es)

Uncle Alther

Occupation

Title

Ex-ExtraOrdinary Wizard

Address

None

Predecessor

Successor

Alther Mella was the ExtraOrdinary Wizard of The Castle for many years. He is currently a ghost and a very good friend to the Heaps.
Being the ExtraOrdinary Wizard
Edit
Alther was the ExtraOrdinary Wizard of The Castle for many years, during which time he had two apprentices: Silas Heap and Marcia Overstrand (in that order). Silas begged Alther to annul his apprenticeship so that he could live with Sarah Heap which Alther did; he then took on Marcia.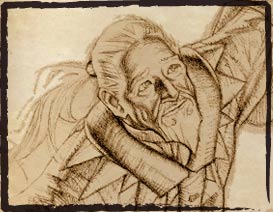 When Marcia had just passed her final exams, and she had gone to thank Alther, a messenger arrived and told them that a baby girl had been born to the Queen. Alther was summoned to the
Palace
to perform the Welcome Ceremony, and Marcia went along to help. However, they had just arrived when an Assassin burst in and shot the Queen, then Alther. Marcia managed to escape with the Princess, taking the Akhu Amulet, which Alther insisted her on taking.
In the Books
Edit
Alther first appears in the book as a close friend of the Heap familie, as well as a close confidant to the ExtraOrdinary Wizard Marcia Overstrand. Supplying Marcia with essentiel information of the going-ons in the Castle, he enables the wizards to stay one step ahead of the villanous Supreme Custadion (A servant of the infamous DomDaniel). 
 After Jenna, the Heir of the throne, is discoverd to be a princess, he plays a vital role in saving them from the dangerous assasin which is sent to kill her. He later appears at Boy 412, later know as Septimus Heap, Wizard apprentice ceromany. 
in flyte alther mella is there and helps septimus while  he is learning to use the flyte charm  h
in queste alther mella  is there to give septimus as much information as possiable about the colors the questing stone turn and everything
ather is banished in dungeon number one